Easily install and remove your boat lift this year!
Preserve your relationships! No more pressuring your friends or family to help you launch your boat lift at the beginning and end of every boating season.
Float your boat lift for easy installation and removal.
The Boat Lift Helper is made of the same tough material that the military uses to raise sunken equipment from the ocean floor. The Heavy-duty air-lift-bags will raise your boat lift up off the lake bottom for simple positioning right from your dock. No need to muscle your boat lift through muddy, sandy, rocky, or weedy lake bottoms.
Mid-season when lake water levels change, or in fall at the end of season simply re-inflate the Boat Lift Helper's powerful air-lift-bags to move your boat lift into a new position or back into shore. No hassles with reattaching foam floats or 55 gallon drums, no getting back into that cold water, and no stressing you back by lifting.
Enjoy boating with your friends and family without the added chore of boat lift installation and removal!
Easy spring install.
Once you have attached the Boat Lift Helper to your boat lift, simply move your boat lift into the water (we have wheel kits that can help you roll the boat lift into the water) and inflate the air-lift-bags. When inflated a cushion of air will allow you and 2 other adults to move your boat lift! When your lift is where you want it, release the air from the bags (one at a time). You are done! That's all there is to it!
Keep the Boat Lift Helper air bags on the boat lift ALL SUMMER LONG!
Yes, the bags will stay attached, under water all summer. THIS is the greatest perk to our Boat Lift Helper system.
WORK SMARTER, NOT HARDER.
DON'T go into the cold water
DON'T spend hours struggling
DON'T reattach anything and
DON'T break your back or lift anything!
Leave the Boat Lift Helper attached to your boat lift. Whenever you need to move the boat lift, simply refill the air-lift-bags and float your boat lift into a new position.
Mid-season water level changes?
Adjusting the legs/pads/level of your lift?
End of the season for fall removal?
DON'T LIFT IT, FLOAT IT!!
Easy fall removal. Use the Boat Lift Helper again at the end of the season to easily remove your lift from the water for fall removal.
What are these boat lift air bags made from?
Military grade, industrial rated reinforced polyurethane material (think of PVC on steroids) is what the Boat Lift Helper system is made from. We have been using our very first prototype bags for 11 years now and they are still working as good as day one. See our TESTIMONIAL page for photos of our first system.
The rest of the air lift system is made from stainless steel, brass and aluminum hardware.
High Abrasion Resistant.

High Puncture Rate.
- Lightweight, high strength military grade fabric is durable, rugged, mold and mildew resistant.
- Fully adjustable L-brackets for with high securement operation.
- Low profile when deflated for easy moving to shore, compact storage.
How do I mount the boat lift bags to my lift?
Mount the patented universal L-brackets of the Boat Lift Helper's air-lift-bags to your boat lift's bottom front and back beams. Our L-brackets adjust from 2-4" wide and 3-6" tall to accommodate most manufacturers (we can provide specialty L-brackets for larger beams). Follow the simple, easy step-by-step installation guide to attach the hoses and fittings from the bags to the complete air valve assembly.
Tools needed: knife to cut the air hose, a screw driver to tighten the hose clamps and two wrenches to tighten the lock nuts.
We have 3 Standard Sized Systems.
6ft, 7ft, 8ft. Each system comes with 2 bags, stainless steel hardware, aluminum adjustable mounting brackets, brass fittings, 35' hose and complete air valve assemblies. Everything you need, all you have to provide is the air.
How do I know what size I need?
We need to know how WIDE your boat lift is. The width of the lift from inside the vertical columns. Or you can provide us with make and model number and we can do the research for you.
We have 3 standard sizes:
Option 1.) 6ft Boat Lift Helper System - 96" wide lifts
Option 2.) 7ft Boat Lift Helper System - 108" wide lifts
Option 3.) 8ft Boat Lift Helper System - 120" wide lifts
This is only a rule of thumb so canopy size, extra weight from accessories, and some specific models may work best with a different size system. We do manufacture smaller 2ft, 3ft, 4ft, 5ft bags and oversized 9ft, 10ft, 11ft, 12ft long bags for different lifts and different scenarios.
How do I inflate the air lift bags on my boat lift?
You have 2 options:
USE AN AIR COMPRESSOR
Hook up to an air compressor. This might be a little slower (and heavier) than our 120v Pump but will still do the trick for you.
There is a 3PSI relief valve built into the valve assembly so you dont have to worry about over inflating the air bags.
USE A RAFT INFLATOR
One the nice perks to our system is that you don't need a big bulky, heavy air compressor to inflate the bags. Pump MUST reach 3PSI.
We do sell a 3PSI 120v Airhead Pump that can be added to your kit.
Don't have 120v power? You can use a power inverter hooked up to a battery to still use a 120v pump
(we sell power inverters too, see our ACCESSORIES page).
The Boat Lift Helper air lift bags only requires 2.5-3 P.S.I. of air pressure (2.5 P.S.I. is required for proper boat lift flotation) which is easily achieved with the same low priced pumps you probably already use to inflate floats, tubes and other lake toys. There is no worry if your pump puts out more than 3 P.S.I. the Boat Lift Helper has a built in relief valve to release the extra pressure.
This can be added to your system at purchase. To see all other accessories see Accessories page.
Complete valve assembly with 3-way valve for easy operation and built in pressure relief valve for safety.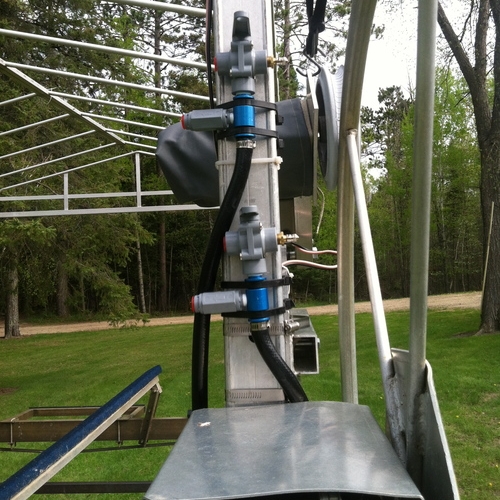 Cable ties are provided to mount the valve assembly to the boat lift.
ACCESSORIES
Other options to add to your Boat Lift Helper system or your lift. See ACCESSORIES page for all accessories and details.
Works with 99% of boat lift manufacturers. Hewitt Roll-a-dock, ShoreMaster, ShoreStation, Floe, Pier Pleasure, Porta Dock, Beach King, RGC, Naylor, Lakeside, Starr, ShoreMate, Harbor Master, Feighner, SunStream, Badger, Ridgeline, Vibo, Sunstream, Max, Walk on Water, DAKA, JBLund, Captains Choice, etc.
A 3 year warranty provides added assurance of our products quality and business integrity.